The Red Shoes - a stunning performance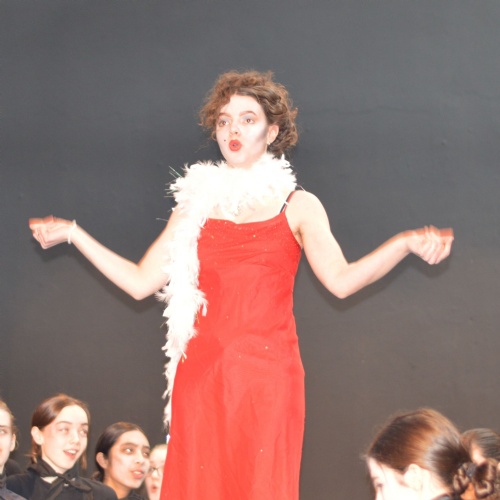 A tantalising journey of obsession, desperation and joy
Last Friday saw the final performance of The Red Shoes by our talented actors, musicians, singers and dancers.
Director, Rebecca D'Souza discusses the process of bringing the fantastical tale to life:
"Anna Maria Murphy's beautiful poetry and Kneehigh Theatre's bonkers theatrical style are a match made in heaven and it is for this reason I keep returning to The Red Shoes time and time again. From Justine's ridiculous 'magic' tricks to Lady Lydia's luscious quips and to The Girl's oozing desire for her ruby red shoes."
"The challenge of taking on a play so deep-rooted in movement and dance was a slightly harrowing task for a mere Music and Drama teacher, however the motivation, commitment and creativity of Rugby High students have made this process a dream. All the choreography in this production has been crafted by the students themselves and I am delighted that our talented dancers have had the opportunity to showcase their passion on stage. The Musicians have worked relentlessly and have humoured me grealty by learning to play pieces that change tempo at the drop of a hat and use some unusual time signatures: they have had to improvise moments at my whim as I suggest yet another idea mid dress rehearsal. Their versatility and professionalism have been second to none. This too can be said of our Actors with three Drama teachers all adding their suggestions, sculpting and developing the scenes over the last few months: it is no easy feat to be on stage and visible throughout an entire performance (you may notice they rarely leave the stage, if at all!) Our performers and technical and designteams have risen to this challenge with gusto and zest, showing such maturity, energy and commitment."
"A huge thank you you must go to our wonderful Drama team, Ailisha Brady and Nicky Jessop, the incredible students and, of course, their parents who played taxi, helped learn lines and given support - without them this production would never have come to fruition."
View the gallery of images of the final rehearsals, taken by our talented year 8 photographer, Emily.