Curriculum Enhancement Week 2023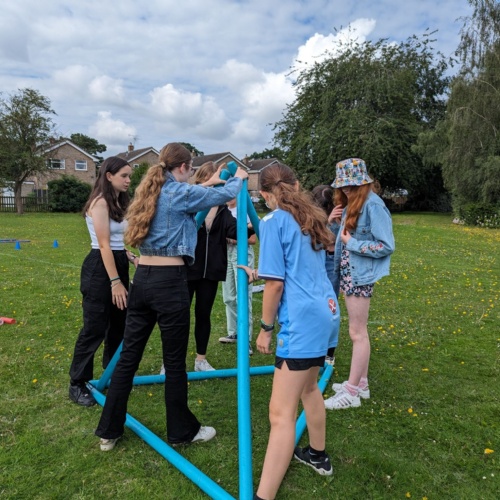 CE Week has been filled with adventure, new experiences, discovery, teamwork, creativity, sport, art, film and even some relaxation!
The final week of term at Rugby High School has been bursting with activities and trips! While Year 12 students have been out on work experience, all students in years 7, 8, 9 and 10 have enjoyed a week packed with engaging experiences from flamenco dance lessons to artful maths, from star dome planetarium shows to football training and tournaments.
Subjects explored in new ways include sociology, psychology, science and drama, geography and maths, with orienteering courses, STROOP effect tests designed, scientific-themed drama performances and beautiful mandalas drawn.
Day trips have included Drayton Manor theme park for roller-coaster fun, the Black Country Living Museum for a peek into history and Northampton Active Water Activities day for a plunge into, and rides on, the river.
Alongside this packed week, our Duke of Edinburgh qualifying expeditions for both Silver and Gold students have set off on their intrepid hikes, camping in the Brecon Beacons and hoping for good weather.
While school has been home to CE Week activities many students have been away on school trips, some for the first time in years! Over 40 Year 8s have been to the Opal Coast in France to meet and eat snails, experience a chocolate demonstration and des glaces sur le plage, Year 9s have had adventures galore at Llain Activity Centre near Aberystwyth and Year 10s have had a fantastic trip to Naples, visiting the ancient city of Pompeii, exploring Herculaneum and making their own delicious pizzas!
What an amazing end to the year for all Rugby High students!
Visit the galleries for photos:
Curriculum Enhancement Week 2023
CE Week