U16s Latest Football Victory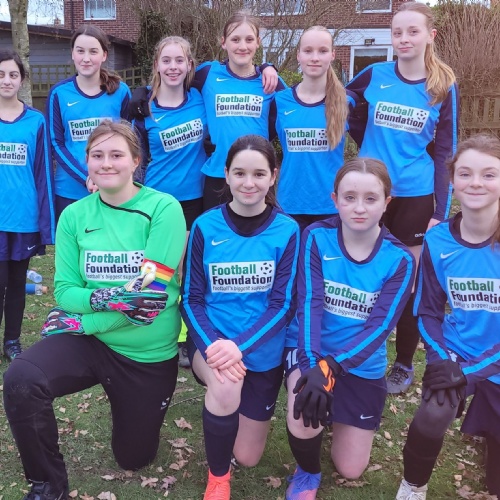 First league game played against Harris CofE Academy
U16s: Rugby High School 6 - 1 Harris CofE Academy
Evelyn (5), Rosie (1; pen). Assists: Izzy, Jess, Rosie.
Team photo caption: back row, l-r, Hani Nasir, Olivia Nicholls, Amelia Kerr, Becky Eaton, Evelyn Bastable, Rosie Revell. Front row, l-r, Sophia Wilk, Poppy French, Sofia Brighton-Revenga, Izzy Barr. Jess Billa-Patel left early.
Rugby High got off to a great start in the first of our league games, despite an anxious start. With a last-minute switch from 9-a-side to 11-a-side and all of our available players on the pitch, we did relax a little when Evelyn scored her first goal. Three more followed with assists from Jess and Izzy, then Rosie scored a confident penalty, and assisted in Evelyn's fifth goal. Hani made some skilful passes from midfield creating some great chances, no one would ever have guessed that this was her first ever football match! At half-time we had a good lead of 6-0, but we were nervous to lose our amazing Jess, who, like several other players tonight, had juggled her football around other commitments. We steeled ourselves, going into the second half a player down, as Harris had had some good chances and it was only thanks to our solid defence - expertly lead by Sophia, our captain, in goal, and our hard-working defenders, Poppy, Olivia and Amelia, that no goals were conceded. In the second half, we lost Olivia to the stage, and with only nine players on the pitch we did concede a goal when we were caught on the break. However, our midfield worked so hard to cover the gaps, with no substitutes for the whole game, Becky was everywhere, beating the opposition to the ball, and Rosie was strong through the middle throughout. Our three experienced year 8s, Izzy, Sofia and Poppy, who stepped in to make up the numbers for the U16s, played upfront in the second half, and despite the odds being against them, had some shots on target and Poppy even got the ball in the net (sadly, but rightfully, disallowed as offside).
Player of the match was Evelyn - not just for her 'Golden Boot' in scoring five of our goals, but for her great spirit as a team player, allowing other players to play up front and creating chances for them, covering the whole pitch in midfield in the second half, including some great defending too.
Tonight's game showed amazing determination and resilience from Rugby High students - we had five year groups represented on the field, comprised of a range of players who are Academy level, players who don't play out of school, and even players who have never played before, all playing together as a team and supporting each other. We had our two calm and efficient year 12 officials, Belle and Maddie, refereeing and running the line, and we are very grateful to them for giving up their time (they get paid to do this at the weekend). Dr Brown and Mr Phillips felt very proud of all of the students, and we would also like to thank the parents (and big sisters!) who support, drive, and feed snacks to their children to keep them going, between all of their other commitments.