Wreath-making event heralds return of PTA face-to-face fundraising - 8th December 2022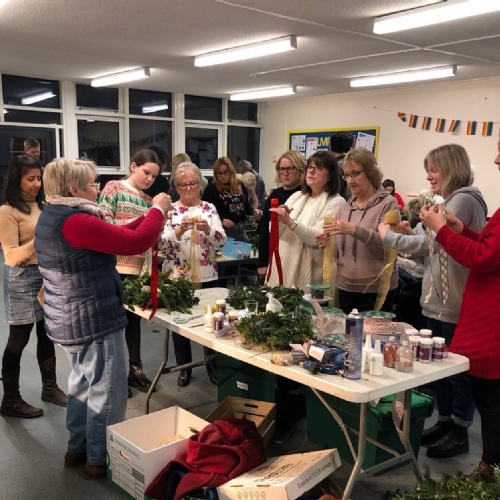 The dining hall of the school was 'decked with holly' for the PTA's (parent teacher association) fundraising wreath-making event this December.
More than 50 RHS supporters created their individual wreaths using holly, spruce, ivy, and conifer, adding final decorative touches with pine cones, Christmas baubles, cinnamon, dried citrus fruits, bows and glitter.
The session was led by Vicki Bridgewater, who provided instruction and guidance at each stage of the process as well as the raw materials and equipment for making the wreaths. Mulled wine and mince pies were also enjoyed during the event!
"It was a treat to be able to gather face to face again; this was a lovely occasion to mark the beginning of the Christmas season. Thanks to all the volunteers without whom this would not have been possible," said Vikas Garg, Chair of RHS PTA.
"We are delighted that the event raised more than £580 to support additional enrichment activities that will benefit our daughters and sons during their time at Rugby High School," added former PTA Chair, Janet Williams.
"I had a great time creating my wreath and it looks very professional," commented Elizabeth Barnard "This was a highly enjoyable evening and raised valuable funds," she added.
The PTA is a friendly group that exists to enrich the education of our daughters and sons at RHS. All parents and carers of students at RHS are welcome at the PTA. If you would like to support us with fundraising ideas or activities, please email rhspta@rugbyhighschool or visit our PTA News page for further news.