Outstanding A-Level results for Rugby High School students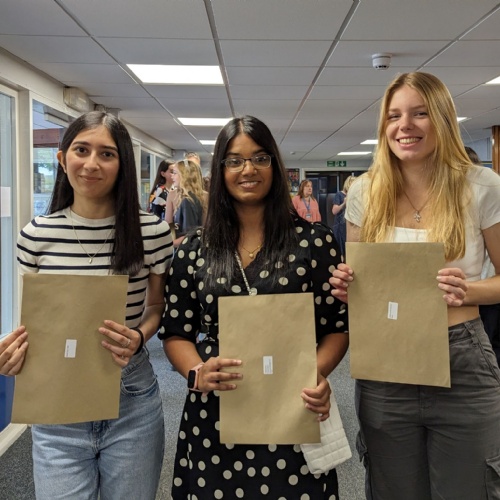 Rugby High School students are celebrating outstanding results this year, with one of the best years of grades the school has ever achieved. Over 45% of grades awarded to students this year were an A* - A Grade.
In a year where there were concerns that results would "fall" to pre-pandemic levels, Rugby High School students and staff have actually outperformed pre-pandemic grading by 7%.
Head teacher Mark Grady said: "We are elated with these results. It proves that RHS is absolutely the place where you can rely on getting the very best grades and support to ensure you can make successful next steps in life. This is a testament to the incredible work of our staff, and of course, the dedication and commitment of our students and families, working in partnership with us to gain the very best outcomes. We could not be happier. I'm sure our students have read the doom-laden news stories about fewer top grades and fewer university places, and that is horrible to read when waiting for your results. But I am so pleased to say that the 2023 cohort have been prepared brilliantly, and have achieved incredibly highly. We are so proud of their efforts, and wish them every success in their next steps. The vast majority of our students have gained their first choice of a university place."
Further fantastic news for Rugby High students includes five students gaining at least 3 A*s or above, several students gaining a place at Cambridge University, and 78% of all grades were awarded A*-B.
This was a year when Rugby High students applied to do a huge range of courses, from artificial intelligence to animation, law, sciences, engineering and criminology, arts and humanities. Not only that, students are also off on gap years, before starting their studies, and several students have successfully applied for apprenticeships in the workplace. Head Teacher Mark Grady added "We are, quite simply overwhelmed at the success stories of our students."
If you are a year 11 student looking for the best place to study in year 12, a school that not only aspires to achieve the highest grades, but offers individual and personalised support throughout your time here, then RHS really is the place for you. We are already oversubscribed for 2023-24, so make sure to get to the school with your GCSE results on Thursday 24th August to secure your place. Further details here: www.rugbyhighschool.co.uk/rh6