Futsal Tournament Success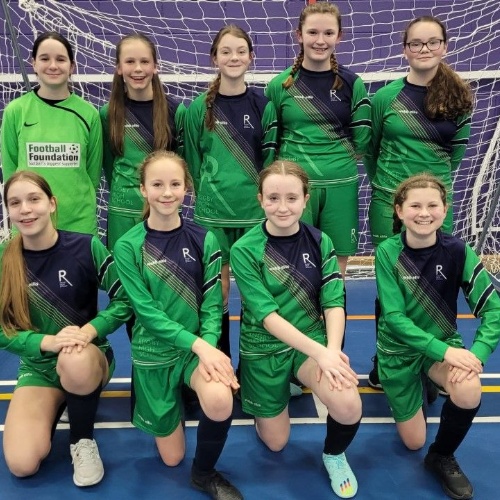 On Monday 6th February the Rugby High School U13 Football Team took part in a Futsal tournament at Harris School.
We were joined by Harris, Avon Valley and Rugby Free School. It was a tremendous opportunity and the students were all eagerly excited about the chance to demonstrate their skills in a competitive environment.
The team made a great start with a 4-1 victory over Rugby Free School, with 2 goals from Sofia B-R and a goal each for Izzy B and Evelyn H. Following this, was a superb performance against Harris School with another couple of goals for Sofia.
This meant that the final match, against Avon Valley, was a "winner-takes-all" decider. It was a closely fought game with chances for both sides but in the end, due to another glorious finish by Sofia and some magnificent saves by Poppy F, Rugby High School secured the victory of the game and, consequently, the tournament.
Dr Brown and Mr Phillips would like to thank all the students who took part. They showed a fantastic attitude throughout the tournament, played to their full potential and represented the school wonderfully. It was decided that the player of the tournament would be Zoe C due to her tremendous goal-keeping display against Harris, a willingness to play anywhere and constant enthusiasm and support for her teammates.
Scores
RHS 4-1 Rugby Free School
RHS 2-0 Harris
RHS 1-0 Avon Valley