U16's take on Futsal Tournament at Harris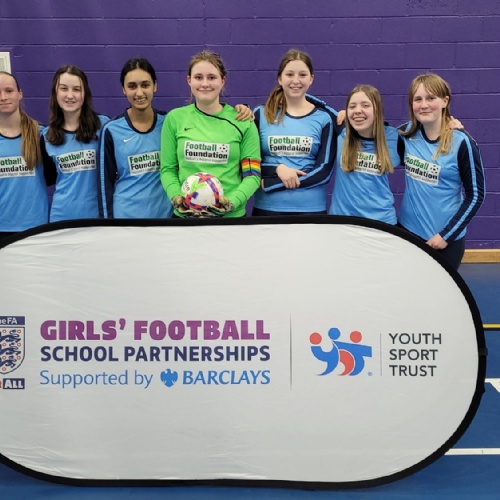 Students had the opportunity to display the skills they've been developing
On Monday 13th February, the Rugby High School U16 Football Team took part in a Futsal tournament at Harris School. We were joined by Harris and Avon Valley. The tournament schedule involved each team playing each other twice. It was a great opportunity for the students to display the skills which they have harnessed during this half-term.
Pictured above: (L-R) Rosie Revell, Evelyn Bastable, Olivia Nicholls, Aneek Heer, Sophia Wilk, Harriet Green, Casey-Anne Milton, Elizabeth Bates.
The first match against Harris was a battling contest in which there were chances for both sides. Sophia Wilk made a number of excellent saves and scored a spectacular equaliser with the match finishing 2-1 to Harris in the end. Following this, the team produced an excellent attacking display with 4 goals from Evelyn Bastable and a goal from Rosie Revell in a 5-0 victory over Avon Valley.
The second fixture against Harris was another tight match with excellent defensive displays from both sides. The game was decided by an un-saveable strike by the Harris forward in a 1-0 defeat for RHS.
Our final match against Avon Valley was a much tighter one in which both sides went close with neither team quite able to break the deadlock. Once again, the defensive positioning of the team and goalkeeping display by Sophia was terrific.
Dr Brown and Mr Phillips would like to thank all of the students who took part. They showed a fantastic attitude throughout the tournament, played to their full potential and represented the school wonderfully.
It was decided that the player of the tournament would be Sophia Wilk due to her tremendous goal-keeping throughout the tournament and inspirational leadership as captain as well. A special mention, as well, to Aneek Heer, in her inaugural tournament for the school, for enduring a "bloody nose" during her first minute on the pitch but continuing to play with a terrific spirit for the rest of the tournament. It was a tremendous display of resilience.
Scores
RHS 1-2 Harris
RHS 5-0 Avon Valley
RHS 0-1 Harris
RHS 0-0 Avon Valley