Trip to Barcelona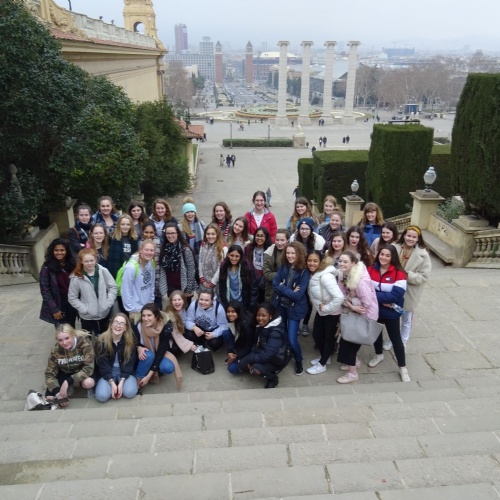 Barcelona Trip for Y11, Y12 and Y13
On the 13th February, students of Spanish from years 11, 12 and 13 made their way to Barcelona, where they would stay with a host family for 5 days. Although it was a nerve-racking experience, by the end of the week, many students didn't want to leave – there were even a few tears!
After spending the first evening with our host family, eating traditional Spanish foods and having plenty of interesting conversations, we spent the Wednesday keeping ourselves busy with many activities. Firstly, we visited markets along las Ramblas, where we were able to practise both our Spanish and haggling skills. Then, we went to a paella making class, and learnt many interesting facts about the history of the dish, including the Latin and Valencian roots of its name. We also got to try the paella (and another rice dish for the vegetarians) that some students helped to make – it was delicious! After this, we travelled to visit Antoni Gaudi's masterpiece, the Sagrada Familia, which in itself was breathtaking. Here, we were given a tour, and learned many fascinating facts about the architecture. If all of that wasn't enough to tire us out, we ended the day with a flamenco class.
On the second day, we travelled to Figueres, where we visited the Salvador Dali Museum and were met by lovely sunny weather. We also visited Girona, a small city along the River Onyar. Here, we saw the Girona Cathedral, and had some free time to explore the small shops, bakeries and restaurants of the city.
The third day of our visit started with a trip to a local school where we had a Spanish lesson with the students there, and spent break time chatting with them. After this, we visited Camp Nou, the home stadium of FC Barcelona since 1957. Even for those who didn't know the first thing about football, it was an interesting visit, and the sheer size of the stadium was incredible.
Finally, we ended our trip with a visit to Park Güell, which is another of Gaudi's major works in Barcelona. We also visited the Olympic Stadium, which hosted the 1992 Summer Olympics. Again, even for those who knew nothing about sport, the visit was really good fun, and we were able to test our athletic abilities with some interactive activities.
Overall, the trip was an incredible experience, and we were able to expand our knowledge of Spanish culture, as well as practise our Spanish skills, and visit some beautiful places.
Hannah Spurr, Year 13