A visit from the Science Bus for Year 8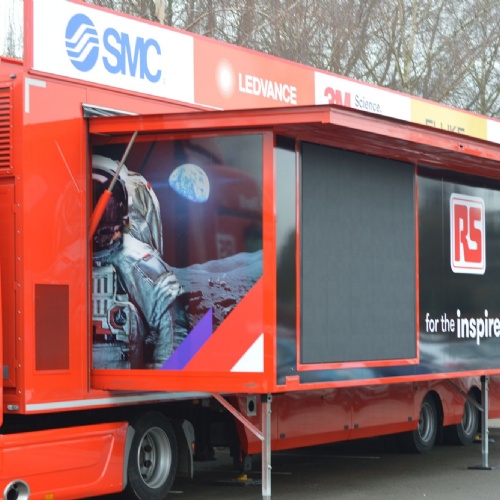 RS Components Science Bus comes to Rugby High
Friday 12th January brought smiles to the faces and questions to the minds of our Year 8s: we had a visit from the RS Components science bus! Upon arrival, we were introduced to the staff and given a short explanation of the exhibits. Then we were free to explore. Many people dashed straight to the Virtual Reality sets, others to the 3D printer and some just wandered around to see what would strike their fancy.
The two Virtual Reality sets allowed us to run a factory and try not to fall off scaffolding on a construction site. It was a strange experience and you could hear people letting out startled gasps. On the other side, slowly but surely, a miniature robot was building up on the 3D printer and an Augmented Reality transformed a board on a counter into a digital town. There were also lots of small activities like the Nut and Bolt Challenge (screwing a nut onto a bolt while wearing thick gloves), a demonstration of how a 360˚ sensor can make an engineering workplace safer, and an example of how to control conveyor belts effectively with just a few simple devices. As well as these fascinating displays, the staff gave us interesting facts about the activities and about engineering as a career; they were informative and friendly and made our experience even more entertaining.
After about 45 minutes of discovering and testing the activities, we gathered outside to watch a 5-minute video about Richard Browning, an engineer determined to fly. "Inspiring", the video showed how he has been developing a machine which uses four jet engines strapped to a special suit. It demonstrated his strength and resilience to make his dream a reality!
Overall, it was an excellent hour and we were all full of praise and excited talk as we returned to our lessons.
Michelle in Y8: "The experience really inspired me to consider a field that I wouldn't have considered otherwise."
By Elise Scotney, Y8