Winners in Forward/Emag national competition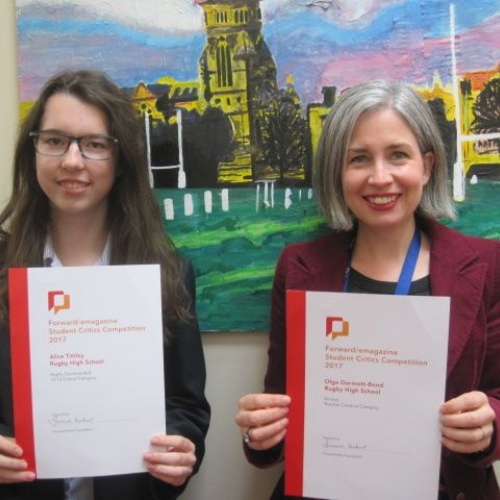 Forward/Emag national competition: results!
Alice Tittley in Year 11 has been highly commended in the National Critical Creative-competition run by Forward Poetry and the English and Media Centre.
She was invited to attend the Forward Poetry Prize evening last week at the Royal Festival Hall. She won the award for her critical commentary on Sinead Morrissey's poem "My Life According to You."
Olga Dermott-Bond, the Head of English, was winner of the Teacher category for her creative response to Maria Apichella's poem 28.
The evening was hosted by Andrew Marr, who was one of the judges of the Forward Prize, which showcases the best of British poetry. On the evening Sinead Morrissey won the Forward Prize of £10,000 for her collection "On Balance". Prize winners heard all the shortlisted poets read from their work.