Costa Rica - World Challenge 2017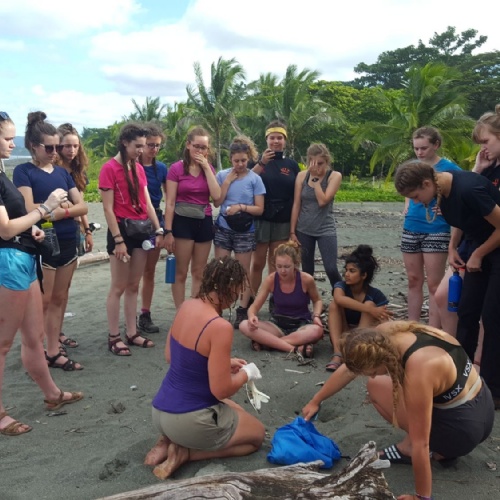 World Challenge - Costa Rica
There were 18 students accompanied by Miss French, Mr K. and the World Challenge Leader, David. They flew to Newark airport and then changed planes to fly on to San Jose, capital of Costa Rica. The group spent 3 weeks away taking part a whole variety of activities and challenges.
They had 3 acclimatisation days in San Jose where they booked and arranged future travel and accommodation. After their time in the capital, they took a 4 hour bus journey to La Fortuna where the group trekked round the base of Arenal Volcano, descended the 500 steps to a waterfall where they swam in incredibly cold water and then visited the natural hot springs for some warmer bathing.
Next on the intinerary: a journey by boat across Lake Arenal to Monteverde where they walked through the cloud forest and saw even more of the wealth of wildlife from giant butterflies, tree frogs, squirrel monkeys and even a sloth.
They had to return to San Jose to endure a 9 hour bus journey at the same time as a couple of the girls went down with a bout of food poisoning! Things got even more challenging when they found they couldn't stay at the scheduled hostel and had to walk through the dark in extreme heat, laden down with heavy rucksacks to eventually find a bed for the night.
After a day of recovery and supply shopping the group embarked on their long awaited jungle trek. Equipped with machetes, horses, tents, trangias and plenty of food, they hacked and squelched their way through the Osa Peninsula. Lydia Reed, Year 13 "It was really hard; mud up to our shins in places, people feeling sick from working so hard. Some of our bags were attacked by army ants (Miss French "the little devils have a big bite"). Lots of us were bitten by mosquitoes. But the trek was honestly the best part of the trip." Miss French: "What an achievement to be able to say that working as a team they have trekked across a whole jungle for 4 days in 100% humidity".
The project part of the expedition was spent at a turtle conservation project on the Pacific Coast. Unfortunately, in spite of twice trawling an 8km beach in the middle of the night in pouring rain, the turtles eluded them. They did, however, come away knowing much more about how and why turtles need to be protected.
The final part of the expedition was spent snorkelling and whale watching. They saw turtles, sting rays, a variety of tropical fish and humpback whales.
Miss French has just launched a new World Challenge to Tanzania with the focus on a community project in the summer of 2019. Ms Marten has also just launched a new World Challenge to Sweden called 'The Survivor' (a lot like the Bear Grylls programmes) for July 2018.