The Latests U14s Football Match Reports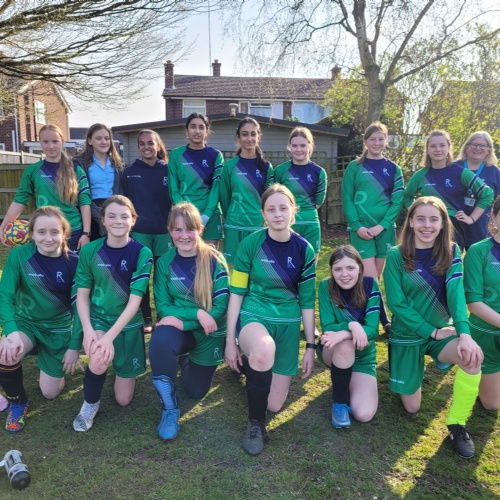 Rugby High School Academy 0 - 5 Bilton School
Our U14s battled fiercely but couldn't quite stop the relentless power of Bilton's U14s. With a several last-minute changes to our squad resulting in a slightly chaotic formation, and a few injury problems, plus missing a couple of our key players, we weren't the team we usually are, but our players showed determination until the final whistle! Our player of the match was Amelia Kerr for work rate, great defending and a couple of great saves in goal. Rosie and Reetha also pulled off some fabulous saves and all of our defence and midfield worked hard. We had some great shots on target too, but we couldn't get past the Bilton goal keeper. Well done to all of our U14s, a great season as a new team, not to be overshadowed by a defeat at the end. A big thank you too to Miss French for changing her plans and stepping in to referee at the last minute.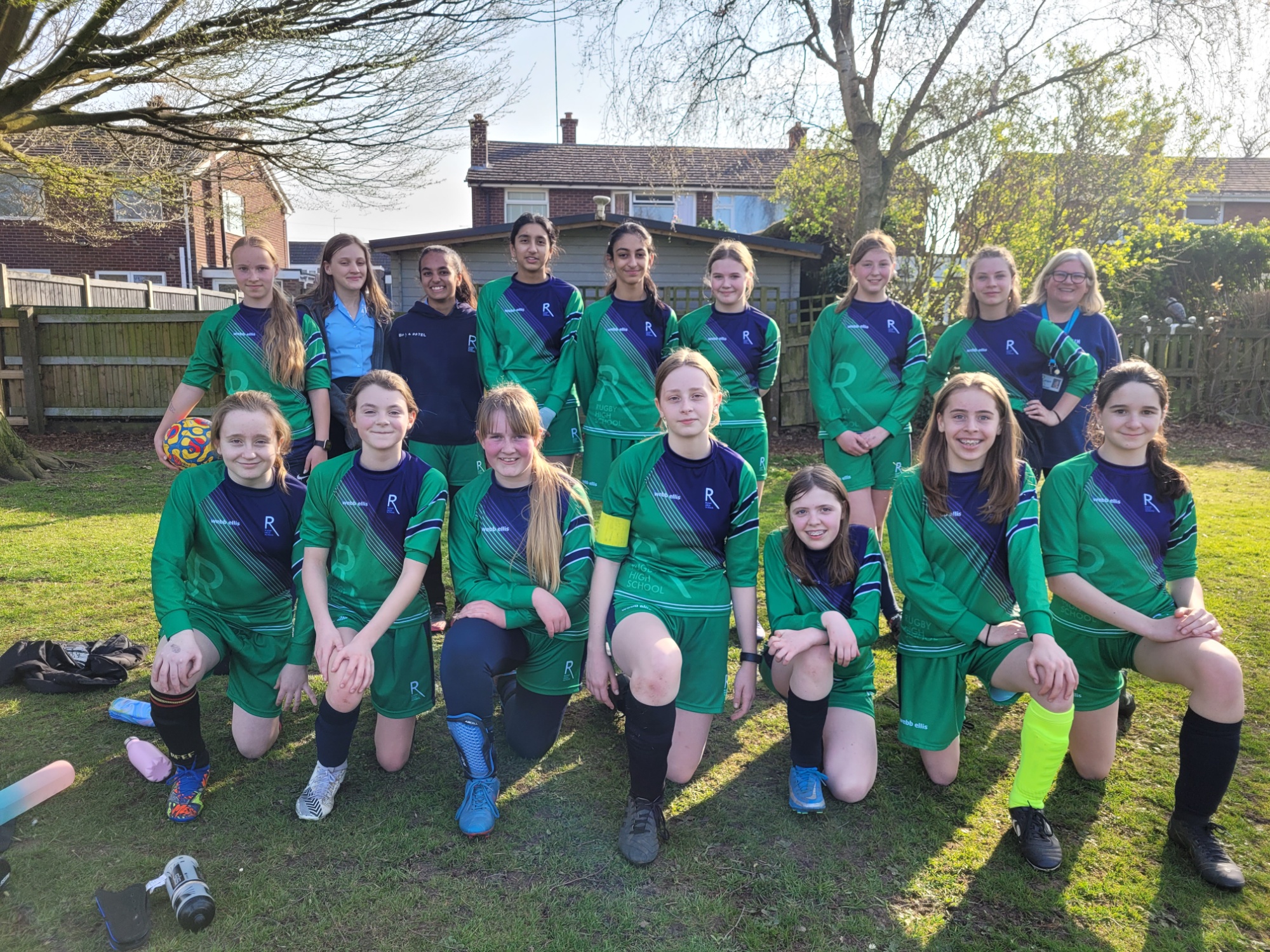 back row l-r, Evelyn Bastable, Becky Eaton, Jess Billa-Patel, Reetha Joy, Surpriya Banwait, Mia Webb, Harriet Green, Ava Parker, Dr Brown.
Front row l-r, Sofa Brighton-Revenga, Izzy Barr, Elizabeth Bates, Rosie Revell, Casey-Anne Milton, Amelia Kerr, Poppy French. Captaincy was shared by Reetha Joy and Rosie Revell.
Rugby High 15 - 0 Rugby Free
On the 22nd March our U14s football team played against Rugby Free School. The game was a great display of sportsmanship and teamwork, and paired with the lovely sunshine, the game was so much fun to play. We started warming up promptly before Rugby Free arrived and the game commenced. We quickly gained two goals in the first five minutes from Evelyn's quick dribbling up the pitch. The goals kept coming with 5 more from Evelyn, one of these being an amazing free kick, as well as great assists from Becky and Charlotte. Sofia finished two great goals due to great teamwork up and down the pitch. We gained a penalty but Evelyn decided to not take the goal as fair play to the other team.
The second half began and myself and Becky switched as goalie, both of us keeping a clean sheet. As it was a high scoring game, the team decided to let all attacking players have a chance at goal, and we succeeded! Myself, Charlotte, Harriet, Poppy and Izzy all scored with great assists all round. The whole team showed brilliant team spirit, as well as Rugby Free being a determined and sporting side.
Written By Rosie Revell, Year 9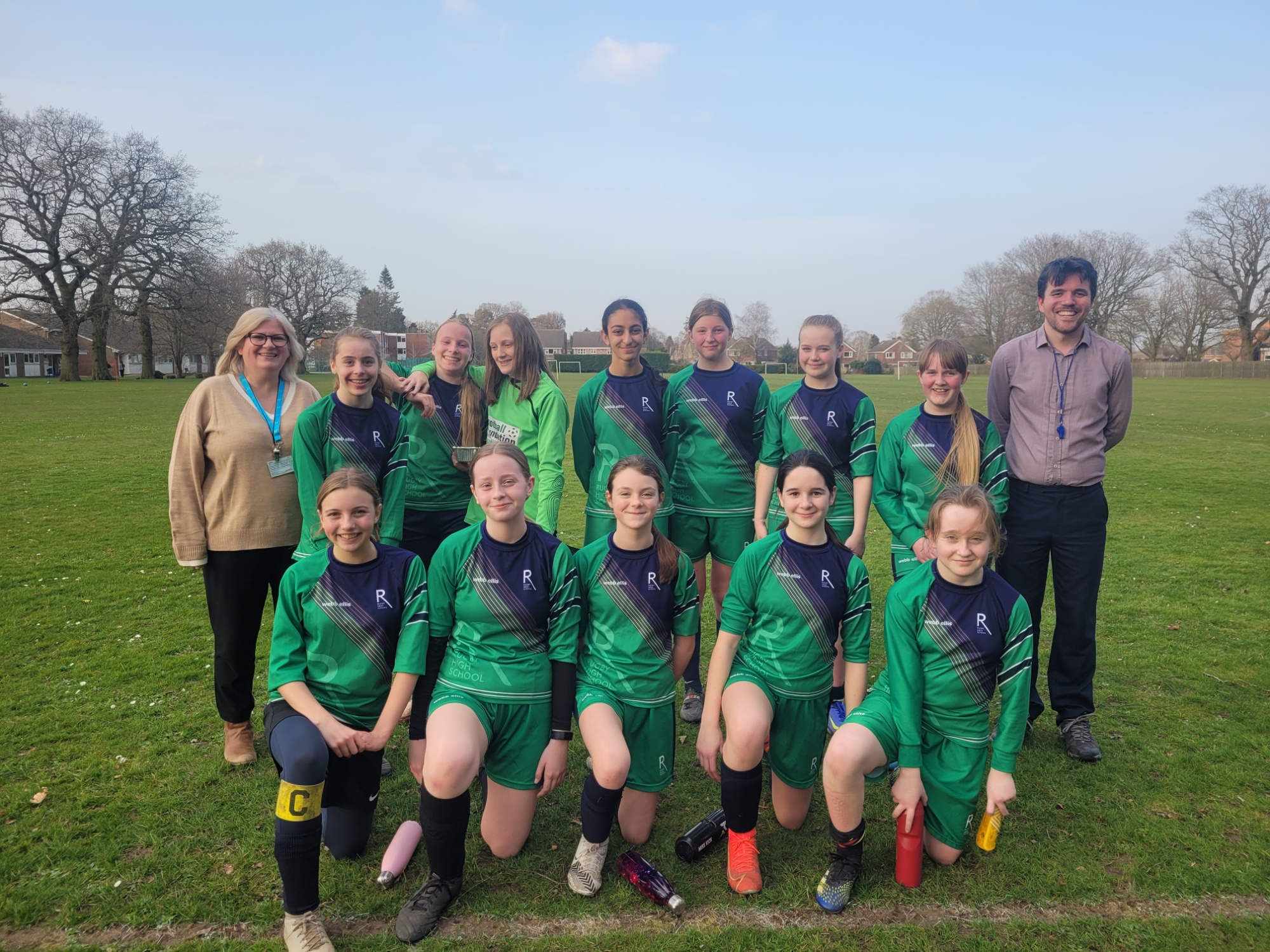 Back row standing: Dr Brown, Amelia Kerr, Evelyn Bastable, Becky Eaton, Surpriya Banwait, Harriet Green, Mia Webb, Lizzie Bates, Mr Phillips. Front row kneeling: Charlotte Smith (C), Rosie Revell, Izzy Barr, Poppy French, Sofia Brighton-Revenga.
POM: Charlotte Smith