First Football Match for the U14s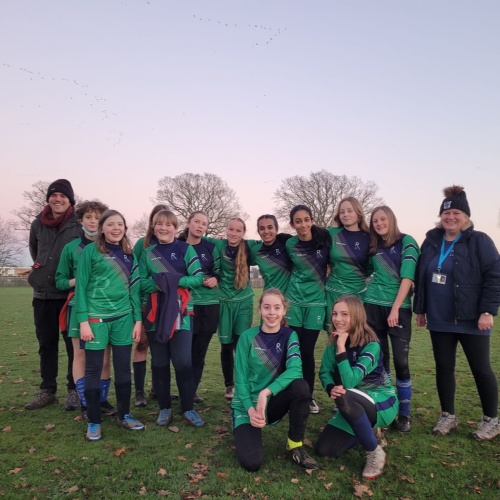 On Monday 17th January the U14s played their first match against Bilton School on a home game. It was a brisk game and despite the biting wind and chilly weather conditions the girls all stood up to the challenge and put in 100% effort. It was a close game with quite a few shots on target throughout the first and second half.
At half time we came off to have a deep team talk and agreed to maintain effort and passion into the game. In the second half we were lucky to gain a penalty which Evelyn rose to the challenge and admirably scored our first goal as a team. It was a close game but with ten players Bilton managed to take the win with the score at 2-1.
Overall it was a very even game with effort from the whole team and we all left the pitch with our heads held high embodying the school motto by setting heights in our hearts. It felt truly warming to see smiles on our teammates faces and unity within our team. Although I was captain, I felt the whole team encouraged each other and motivated everyone to put in that much more effort. Congratulations to Rebecca for getting player of the match, it was well deserved.
by Charlotte Smith 9T2
U14s Team, l-r, , Mr Phillips, Summer Greer, Casey-Anne Milton, Harriet Green (hiding), Lizzie Bates, Ava Parker, Evelyn Bastable, Jess Bila-Patel, Supriya Banwait, Rosie Revell, Rebecca Eaton, Dr Brown, (kneeling) Amelia Kerr, Charlotte Smith (C).