Arkwright Engineering Scholarship Award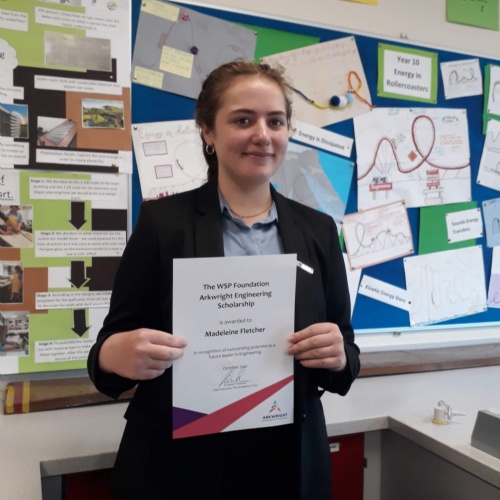 Congratulations to Maddie Fletcher in Year 12 who has been awarded an Arkwright scholarship
Congratulations to Maddie Fletcher in Year 12 who has been awarded an Arkwright scholarship to provide a mentor and a financial grant to support her A-level STEM subjects with the aim of pursuing an Engineering degree or apprenticeship.
If you are in Year 11 currently and also thinking of studying STEM A-level subjects and planning a career in Engineering, take a look at the information below. If you would like to be nominated for the application process, please email Mrs Mighall (mighalls@rugbyhighschool.co.uk) by December 15th.
The highly respected Arkwright Engineering Scholarship, designed to inspire and equip the next generation of UK engineering talent, is celebrating a record number of female scholars embarking upon its 2020 programme.
This year, the programme awarded 300 esteemed scholarships to bright and aspiring 16-year-old students from across England, Scotland, Wales and Northern Ireland, with 45 per cent of these presented to female students and 38 per cent to young people from non-selective state schools.
Now heading into its 30th year, the Scholarship provides young people in the UK with a fully sponsored programme of hands-on experience, professional mentorship and careers guidance throughout their A-levels and Scottish Higher qualifications.
The engineering industry has played an essential role in the ongoing coronavirus pandemic, from developing PPE for frontline workers to helping construct new hospitals. A diverse pipeline of future engineering talent will pave the way for greater innovation and help sustain the nation's development and economic recovery through the ongoing coronavirus pandemic - however, skilled engineers are in short supply.
With women currently accounting for just 22 per cent of the STEM workforce, the Arkwright Engineering Programme aims to close the gender gap and support young people from all backgrounds with the skills and confidence to change the world through engineering.
Arkwright Engineering Scholars benefit from financial support, professional mentorship, exclusive networking opportunities and real-world learning experiences with leading engineering firms such as the IET, the RAF, Rolls Royce and Network Rail. The enrichment experiences offer students a unique opportunity to immerse themselves in different engineering specialisms and discover a wide range of exciting career paths, from aerospace to robotics.
The programme aims to break down the misconceptions which some young people may have around working in STEM and offer exposure to inspiring female engineering role models, as scholars get to experience first-hand the positive impact which engineering can have on society.
The year-long scholarship application process, which involves an online application, an aptitude exam and a virtual interview, is designed to assess students' engineering knowledge as well as other key life skills such as leadership and creative thinking.
If successful, Scholars' hard work is rewarded through a nationally recognised Scholarship certification to supplement university and apprenticeship applications. Schools participating in the programme further receive a £400 donation per awarded Scholar at their school, which they can utilise for STEM events and resources to benefit students.
Kevin Stenson, CEO of The Smallpeice Trust, said:
"We're thrilled to see an increase in the number of female scholars and scholars from disadvantaged backgrounds excelling on the Arkwright Engineering Scholarship Programme. The engineering industry needs creative and talented minds, irrespective of gender or background, who are willing to push the boundaries and help solve some of our biggest social, environmental, and economic challenges.
"Improving gender equality and raising aspirations in STEM amongst all students must begin from within the industry; it's the responsibility of STEM organisations, government and employers to join forces and provide accessible learning experiences for young people. We work with some brilliant-like minded partners, such as BAE Systems and the Institution of Engineering and Technology, to provide scholars with accessible, hands-on STEM experiences and careers guidance through our Arkwright Engineering Scholarship Programme.
"While we're disappointed to have postponed this year's scholarship awards ceremony due to the coronavirus pandemic, the health and safety of our students and colleagues remains our foremost priority. I'm incredibly proud of the achievements of the talented Arkwright Engineering Scholars who have gone on to work with engineering giants such as BAE Systems and the RAF and make a real difference in society."
The Arkwright Engineering Scholarship 2021 Programme is now open to all Year 11 students in England. If you are a school or student who would like apply for The Arkwright Engineering Scholarship Programme, please visit: https://www.arkwright.org.uk/arkwright-scholarships