A-Level Students teaching French at a local Primary School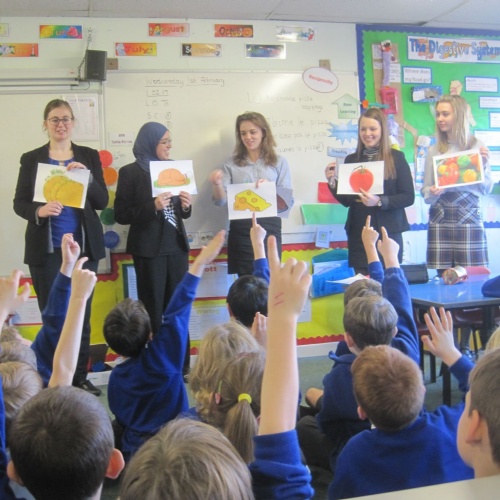 5 students from Year 12 joined Y3 pupils at Dunchurch Junior School to teach them how to order a Pizza in French to complement the children's Pizza making Topic work.
Having decided on the format of the lesson, the students tried out their language activities on the Y7s who attend French Club on a Tuesday lunchtime. The Y7s really enjoyed the lesson and offered a few suggestions that were incorporated into the final lesson plan. Reassured and well-rehearsed, Dani Whittington, Merna Daabis, Ellie Johnson Neve Coward, and Ellie Thompson were delivered at Dunchurch Junior School at 1.30pm to teach their lesson to 2 different Year 3 classes. By the end of a series of fun exercises and games led very confidently by the students, the children were able to name and order different pizza toppings.
This is what the Y12 students said about the afternoon. "Going there has made my week!"
"The children took to our lesson really well and they seemed to enjoy it."
"It brought back really good memories of being at Primary School – a lovely settled and relaxed environment."
"It gave us the confidence to adapt the lesson on our feet – it wasn't a massive issue to change plan."
"We realised how important it is to give children interactive activities that involve them all."
"We would definitely like to do this again! We are not done with Dunchurch!!"