Pickleball: A new and rising sport at Rugby High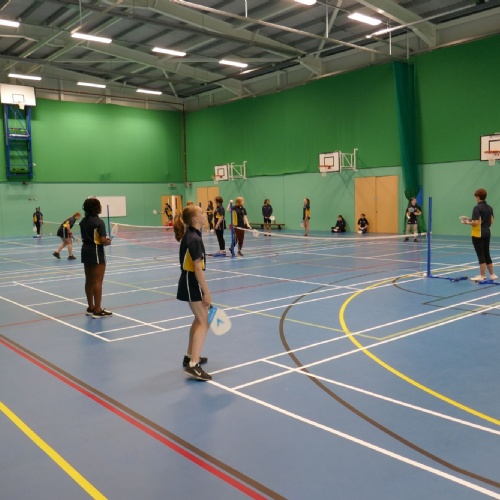 Played on a badminton court, using badminton nets that have been lowered, all students from Year 7 – Year 11 will be taught how to play pickleball!
The PE staff were trained by Sam Basford, regional director of pickleball, just before lockdown 2020. On returning to school, with the help of a £400 grant from the PTA, they bought the necessary paddles and balls. Ms Wallace, Head of PE: "We see so much progress after just 1 lesson. It is a sport that is accessible for all levels and the students can literally play competitively after their first lesson. They will learn to serve, volley, rally and to dink. As their technical skills improve they will also develop tactical awareness and how to apply this."
From Year 8 pickleballers Ionie Mitchell, Jessica Hopkins and Suad Othman: "The name's a bit strange, but I find it easier than the other racket sports."
"It's a really nice different sport I haven't tried before. I like the fact you can work individually or in groups of 3 or 4."
"It's similar to other sports like badminton and tennis, but different!".