Year 9 Science Projects in Lockdown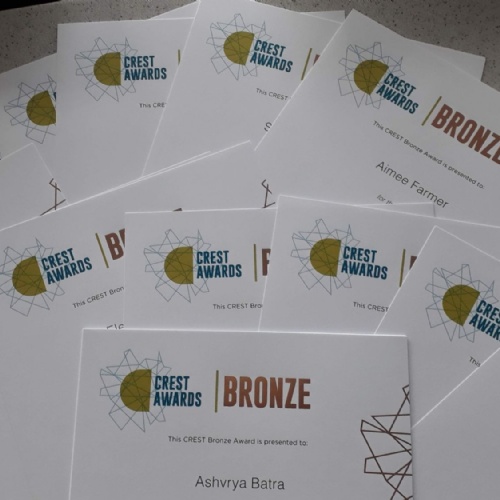 Every year our Year 9 Science students embark on practical projects as one of their half term units. This is an opportunity for students to focus on an area of Science that personally interests them and to research it and carry out their own practical investigations and write them up. We like to celebrate their work with a Science morning of celebration and choose some of the best projects to enter into regional and national Big Bang Science competitions. As a department, we realised in January that our already scaled down plan simply couldn't happen. Instead we asked our Year 9 students to complete a Research Project on the Discovery of Penicillin.
The project work was submitted and after feedback from staff we wanted to recognise some of the high-quality work that our students had produced. There were a number of projects which had followed the brief so precisely that we were able to enter them for a British Science Association Bronze CREST award. CREST stands for CREativity in Science and Technology and is the British Science Association's scheme for STEM project work that inspires young people to think and behave like scientists and engineers. It's an award we offer at higher levels too, with the Gold level recognised by University admissions departments. The students entered were all successful and have been presented their certificates in Science lessons this week.
Very well done and congratulations to:
Flora Zhao, Olivia Sam, Angel Bhatnagar, Sophia Chowdry, Aimee Farmer, Nosang Lawati, Joanna Sathyaseelan, Jay Wilk, Ashvrya Batra, Ariana Boga, Agata Borowiec, Eleanor Colwell, Sana Deshpande, Tania Joseph, Riya Paul, Rosie Seago, Alisa Soji, Ananya Viswajit, Sophia Dixon, Rose Ridley and Daya Ojla
Mrs Susan Mighall
Head of Physics