Visit to Roman Baths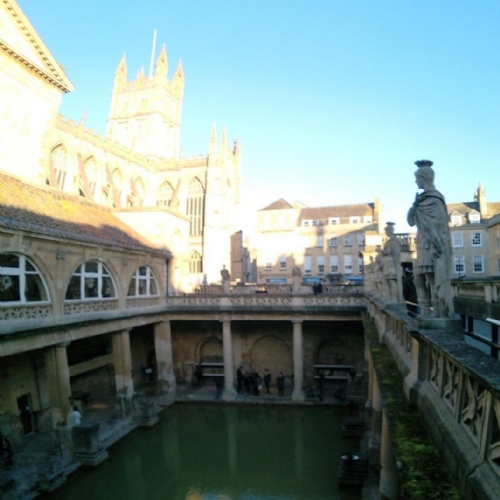 A trip to Bath for the Year 10 Latin class.
On Friday 25th November, the Year 10 Latin class set out on the long trip with Mr Paterson and Ms Marten to Aquae Sulis (the ancient Roman town that is now called Bath), in order to visit the Roman Bathhouse. The journey wasn't short by any means, but it was well worth it!
Before we arrived, we had to walk through the bustling town that is Bath on Black Friday and a Christmas Market in full swing. Needless to say, there were more than a few longing glances at the roasted chestnuts and the market stalls… and that's not even mentioning the clothes shops!
Upon arrival, we got involved in a presentation where we learnt a lot about the Roman world at the same time as being able to handle artefacts and practise our Latin.
Aquae Sulis is home to the one of the largest bath houses in Europe. It has a naturally occurring hot spring from which 9 litres of water at 46°c emerge every day and you can see the stream coming off the water- but believe me when I say that it tasted gross! It is because of this innate heat that the Romans believed that the waters were blessed by the Goddess Sulis Minerva and that they had healing properties. As a result, Roman Bath was a huge destination for pilgrims and other weary travellers, with temples (one of which is still buried under Primark) and spacious baths ornate with what would have been lavish decoration and glorious colours.
Overall it was a brilliant day, and, although we accidentally missed one of the service stations on the way back, I think I can say that we all thoroughly enjoyed it.
By Roheena Buckland 10RW