Shreya Hegde in Year 7 wins National Schools' Poetry Competition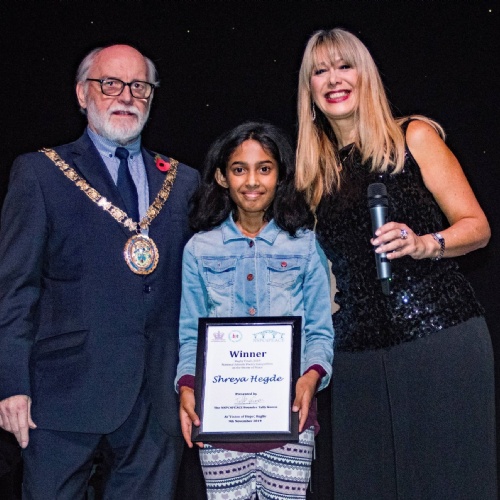 John Lennon is not alone anymore....there is a new 'Imagine'!
Shreya Hegde, won the first prize in the National Schools' Poetry Competition, NSPC4PEACE 2019, with her poem "Imagine Peace". The judges, including William Blake Society Chair Tim Heath, Brenda Emmanus OBE, Princess K, and the competition's founder, singer songwriter Tally Koren, all chose the poem as their favourite from hundreds of poems in age category 7-12.
Tally commented, "Imagine by John Lennon will always be one of my favourite songs, but when I read "Imagine Peace," it was so refreshing to have a song probably inspired by the original, yet so relevant now....and with the voice of the young generation"
What sets apart the NSPC4PEACE from other competitions, is that the winners' poems will be turned into popular songs and they will receive their award at a special House of Lords event hosted by Lord Eames OM, later this year.
The competition has already enlisted the support of well-known judges from the arts world, such as singer-songwriter Katie Melua; Don Black; Pete Brown; Tim Heath, Chairman of The Blake Society; and founder, singer-songwriter Tally Koren.
Photo by Patrick Joyce : Shreya Hegde winning the Rugby's NSPC4PEACE in October 2019.
On the left the Mayor of Rugby Cllr Bill Lewis , Shreya Hegde and Tally Koren.
Our thanks are due to to local charity Benn Partnership Centre for working with young poets and coordinating events locally.
Imagine Peace By Shreya Hegde
Imagine if…
We throw praises,
Instead of knives.
We hurl hugs
instead of abuses.
We light fireworks,
instead of bombs,
what a wonderful world it would be!Imagine if…
we open the gates,
not close borders,
we embrace differences,
not shrug them away,
we see colours as shades,
not as skin tones,
what a wonderful world it would be!!
Imagine if…
the spirit of chaos
entwining the world
in its vice-like grip
….does harmony rip,
and friendship permeates all nations,
What a peaceful world it would be!!