Celebration Assembly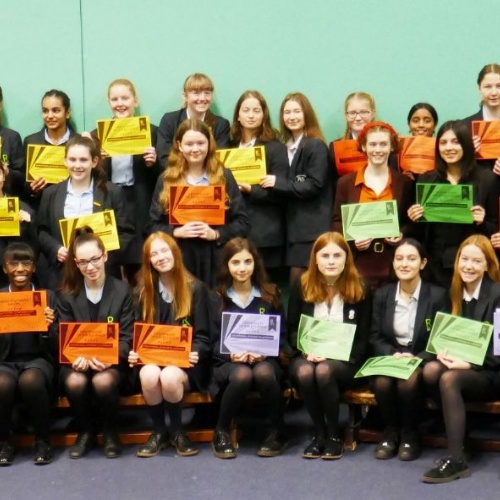 On Tuesday 17th December we had our first Celebration Assembly of the Academic Year. These assemblies are held to recognise and celebrate students' resilience, persistence and hard work, a reflection of their own self-motivation and encouragement from others over the last 14 weeks.
Students can earn house points for; acts of kindness, teamwork, extra-curricular activities, progress, sustained excellence, growth mindset, attitude to learning, and even having all their equipment and uniform.

Prizes
One student was chosen from each year group and from each department for having an exceptional attitude to learning. Their photo was displayed along with their name and comments from their teachers.
One student from each form group was also nominated by each form tutor for The Head Teacher Award for Exceptional Contribution to RHS.
82 students have had breakfast with SLT for having the most points awarded for a positive attitude to learning and progress in the first two half terms.
Hundreds of Postcards and Letters have been sent home to outline students' hard work and sharing successes at home with parents or carers.
11 raffle prizes of a £10 voucher were randomly selected and won by students in each Key Stage
So far 37,406 house points have been awarded this year.
Below is the amount of points awarded for each category:
Uniform and Equipment – 268
| | |
| --- | --- |
| Glennie Total | 55 |
| Hepworth Total | 127 |
| Ryder Total | 34 |
| Sharman Total | 48 |
Extra-Curricular – 13559
| | |
| --- | --- |
| Glennie Total | 2936 |
| Hepworth Total | 4006 |
| Ryder Total | 2934 |
| Sharman Total | 3683 |
Sustained Excellence – 1513
| | |
| --- | --- |
| Glennie Total | 380 |
| Hepworth Total | 345 |
| Ryder Total | 402 |
| Sharman Total | 386 |
School Motto – 1302
| | |
| --- | --- |
| Glennie Total | 264 |
| Hepworth Total | 381 |
| Ryder Total | 428 |
| Sharman Total | 246 |
Progress – 6503
| | |
| --- | --- |
| Glennie Total | 1654 |
| Hepworth Total | 1837 |
| Ryder Total | 1628 |
| Sharman Total | 1384 |
Growth Mindset – 1901
| | |
| --- | --- |
| Glennie Total | 554 |
| Hepworth Total | 511 |
| Ryder Total | 445 |
| Sharman Total | 391 |
Positive Attitudes to learning – 11717
| | |
| --- | --- |
| Glennie Total | 2430 |
| Hepworth Total | 3184 |
| Ryder Total | 3553 |
| Sharman Total | 2549 |
House point totals and winner of the First House Prize of the Year – Film with popcorn on 10th January 2020 during period 5 and 6
4th Place – 8273 GLENNIE
3rd Place – 8687 SHARMAN
2nd Place - 9424 RYDER
1st Place – 11,022 HEPWORTH
Point Totals for each year group
Year 7 – 7027
Year 8 - 5677
Year 9 - 5658
Year 10 - 6124
Year 11 – 2714
Year 12 - 4996
Year 13 - 3610