Physicists visit Cummins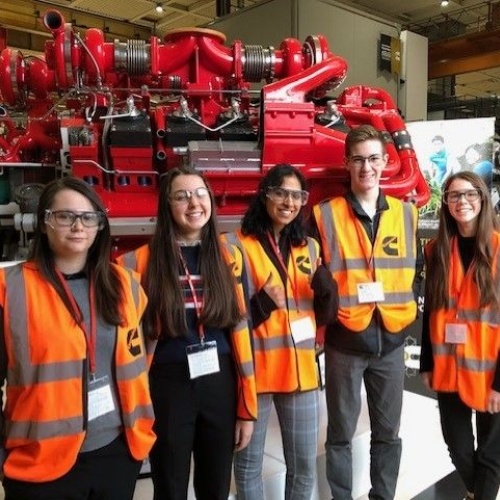 Please enter an introduction for your news story here.
Last month, a team of Year 12 physics students participating in this year's Engineering Education Scheme visited the Cummins engineering plant in Daventry. The Engineering Education Scheme is a project for students interested in physics and engineering that allows the students to work with an engineering company to plan and develop a project the results of which could be used within the company itself. This year one of the two RHS teams is working with Cummins to improve an engine part installation method.
The trip consisted of a tour and demonstration of the different design and manufacturing processes the company uses. The first of these was a demonstration of the virtual reality equipment used to help design and present engine and generator improvements. This allowed us the chance to use the virtual reality equipment enabling us to see the scale of a generator in the same way a Cummins engineer would. Following this, we had a guided tour around the plant where we saw the development of a generator from the very initial part used, to the testing of the generator before it was approved for sale to a customer. We also got the chance to see how engineers carry out 3-dimensional inspection by comparing CAD (computer aided design) models with a model created of the real part by a 3D laser scanner. The day finished with a session teaching on project management, which was presented by an actual project manager who demonstrated her current project and how she had organised it.
We are looking forward to further trips as part of the Engineering Education Scheme such as the residential to Birmingham University coming up shortly.
Rebecca Prestidge, 12B