We are 100!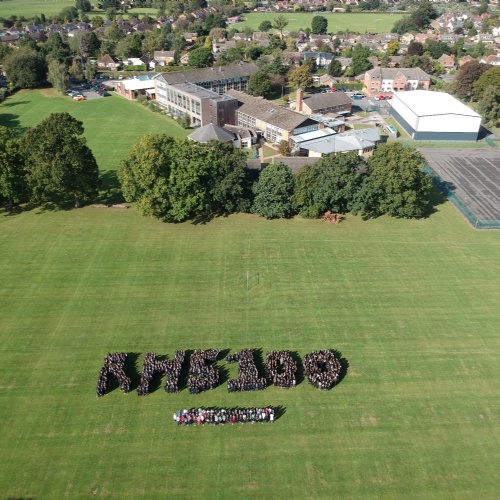 Marking the start of our 100 Anniversary Celebrations
This year marks the centenary of Rugby High School: it was 100 years ago that in 1919 the local authority first provided secondary education for girls in Rugby. To celebrate, throughout the year the students at RHS will be taking part in many different activities including : the dress up day on the 8th November when students will dress up as influential people from the last 100 years, and the activity all students and staff took part in last Wednesday- where we formed "RHS 100" on the field. All the students were hoping that forming this would take up a whole period but it actually ran very smoothly and it took about half a period to get into the formations and something we were all very excited about -sending up the drone to take the snaps. Everyone was very thankful that it wasn't raining and even though there was a little chill in the air everyone seemed to be laughing and chatting –sometimes at the very enthusiastic Mr Grady – we all jumped straight in giving the drone our best smile and wave and that buzz seemed to make people forget about the chilly winds. The final photo features all the students and staff at RHS, who make the school the way it is and keep it running in an organised way, thank you and happy birthday RHS !
Thank you also to Mr Barnard for flying the drone and taking the photos.
By Fatima Krida 10H