Year 10 Science Careers Morning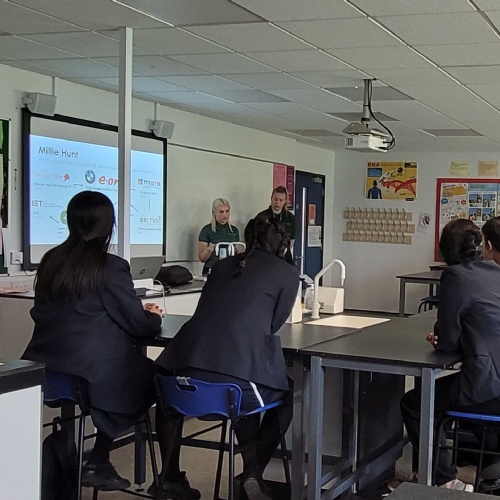 On Friday 9th June Year 10 had 7 fascinating speakers come in to talk to them. The speakers covered a multiple of topics from medical physics to studies of zebra fish.
Ava Parker, Year 10, shares the events of the day!
In my class the first speaker to talk to us was Millie Race, a PhD biologist at Cambidge University that left RHS six years ago. She spoke to my class about the universities she applied to and how she came to study the growth of zebra fish. Millie presented how she works to get a PhD and what her study would currently progress to. She is currently writing up her zebra fish research in a document called a dissertation or a thesis.
The next three speakers we had come in was a group from Britvic (a soft drinks producer, which packages drinks like 7UP, Lipton, Pepsi Max). The first person that spoke to us was Millie Hunt, she was on a multi skilled/Mechatronics engineering apprenticeship for Britvic and on her fourth a final year. She spoke to us about how she was put forward to take place on many extra stem activities and courses which introduced her to engineering. Millie was the first female engineer at Britvic and in the next months will be finishing her engineering apprenticeship at Britvic.
The next speaker from Britvic was Katie Reagan who was currently at her third year of her apprenticeship. She spoke about how she grew up working on cars with her father, which gave her a slight idea of how she wanted to do something practical and work with her hands. She eventually decided that she wanted to be an engineer and began her apprenticeship. The final speaker was Emma Hutchinson, who has a masters in chemical engineering with a Diploma in Industrial Studies from Loughborough University. Since she graduated at Modelez international as a Process Engineer and later as a Line leader. She had been working at Britvic for 16 months as a production unit manager in canning and plastic bottles department.
The next speaker that came and spoke to us was Debbie Holmes a medical physicist that left RHS in 2003. She spoke to my class about the different uses of physics in hospitals. Mainly focusing on radiation and it's uses in machines. She taught us about radiography (X-rays), CT scans (Head scans), DEXA scans (bone density), Mammography (breast cancer), nuclear medicine (traced radioactive material injected into the body) and fluoroscopies.
The final speaker that spoke to us was Jess Batchelor a Y14 Apprentice Engineer and Arkwright scholar. Jess spoke to us about how she worked towards becoming an apprentice engineer and how receiving the Arkwright scholarship (1/400 awarded across the UK) helped her work towards her dream. The Arkwright scholarship is an engineering award offered to aspiring engineer, the scholarship offers a wide variety of exclusive events and opportunities. She then went to receive an apprenticeship at an engineering company in Birmingham and is now working on multiple projects from motorways and railways to preventing walls on beaches from collapsing.