Golden Grady Awards held for Year 13s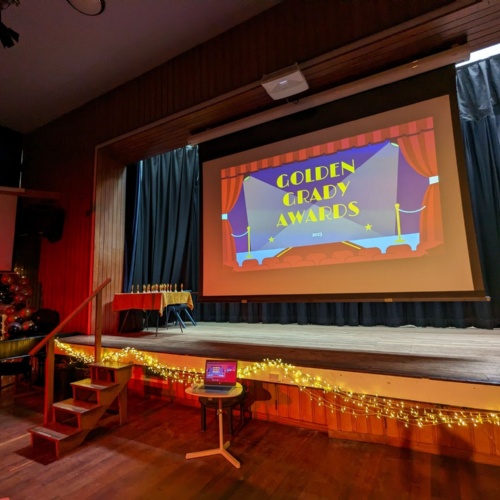 Last week we held the Golden Grady Awards ceremony!
Last Friday was the last day in school for Year 13s before exams and they were welcomed onto the red carpet at the school entrance, looking glamorous and smart and ready for their photo opportunity. As special guests they were ushered into the hall for a flute of something fizzy (mainly grape juice or ginger ale) and to take their seats.
The event got underway with Mr Grady wishing them every success in their exams but also, as they go off into the world, declaring "The thing I want you to draw on is kindness, care and respect - conduct yourselves with these and expect the same from others and you won't go far wrong."
Mrs Dermott-Bond thanked all the staff within the school community on behalf of the students, from the canteen staff and cleaners to the exams office and the support staff and all the teachers who share their passion for their subjects. Mrs Dermott-Bond congratulated the students for showing resilience and ambition and giving back to the school community. She encouraged them all to stay curious, show gratitude and keep a sense of humour. Our students' list of achievements is as diverse at it is long and she urged them to go and make a positive difference in the world.
All five of our Senior Student Leadership Team made speeches which reflected on the memories made in school and especially in sixth form, how students have been challenged, how they should be proud of the people they have become and how they are all going to go on to do amazing things!
An eclectic array of Golden Grady awards (nominated by the students themselves) were given out, from 'Most likely to be a millionaire (or marry one!)' to 'Friendliest', 'Funniest', 'Best hair' and 'Most likely to win the Hunger Games.'
Finally, groups took to the stage to sing, dance and perform! Good luck to all of our Year 13s in your A Levels and beyond!