Foundation Day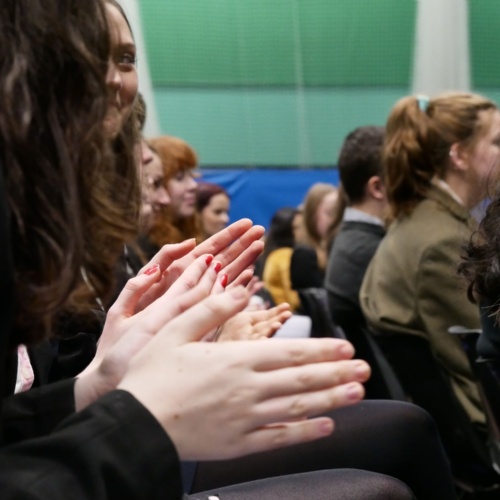 Foundation Day
We have finally reached the end of the Autumn term and, amid the ever-increasing Christmas excitement, on Monday we welcomed back the hardworking students of 2018-19's year 11 and 13 to commend them on their GCSE and A Level results.
As a part of Rugby High's centenary, the whole school anxiously awaited the arrival of Evelyn Glennie as our special speaker. She is an extraordinary woman who has been profoundly deaf since the age of 12 and is a very talented musician. Our own Glennie house is always proud to bear her name. Unfortunately, due to traffic issues, she was unable to make the ceremony, but of course, in the usual Rugby High manner, we took it in our stride and continued on.
We enjoyed listening to speeches from our current and former Student Senior Leadership Team, exploring the many ways that our school is a unique and friendly place to be and we had an address from Mr Grady about the successes of our exam students. We were treated to beautiful musical performances from the school choir and the Chamber Choir and a sublime Handel harp concerto performed by Sophie Costa in Year 8. At the end of the ceremony, the whole school joined together with the choir to give an impressive rendition of our School Anthem.
It may not have happened just as we planned but it was a wonderful afternoon and a great way to celebrate the achievements of our students.
By Elise Scotney, Year 10