U13s play their first football match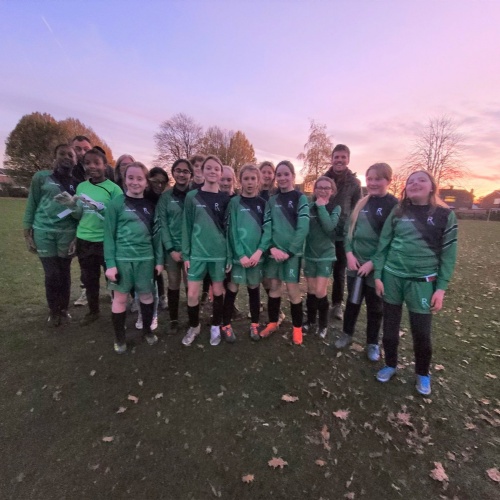 Rugby High School Academy 2 - 3 Parker E-ACT Academy
We had our very first game, and first ever time playing in a match for some of our newly-formed U13s football team on Monday 22nd November. A team from the Parker E-ACT Academy in Daventry kindly travelled over, and the teams turned out to be very evenly matched! At half time Rugby High were 2-0 up but in the second half Parker battled back and scored two goals to equalise. We fought hard until the end, with several great shots on target, but Parker scored the winning goal and despite a few hard-fought corners in our favour, we didn't manage to equalise before bad light stopped play (see photo!). However, our team were fantastic and the smiles say it all! Our goal scorers were Diana Obi and Sofia Brighton Revenga and player of the match narrowly went to Sofia Brighton Revenga. We would like to thank Mr Quinn for refereeing the whole game for us, all the staff and students who came out to support us, and the year 12 students who help us at training every week.
Training is 1300-1340 on a Monday lunchtime, all KS3 are welcome regardless of experience, you should wear shin pads and football boots. We have some more friendlies planned for U13s and U14s in the Spring term.
Dr Brown and Mr Phillips
Photo caption: left-right, Hawa Niass, Mr Quinn, Diana Obi, Dr Brown, Sofia Brighton Revenga, Shivani Ayyalasomayajula, Surabhi Badri, Summer Greer, Izzy Barr, Izzy McDowell, Florrie Stuart, Harriet Green (C), Poppy French, Sophie Farrell, Mr Phillips, Lizzie Bates, Casey-Anne Milton.