Best Teamwork Award from EES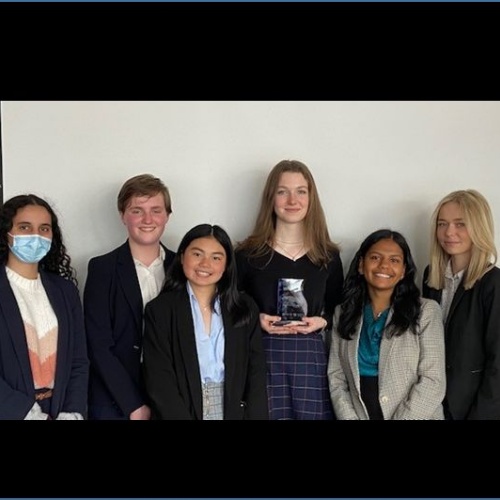 Every year Rugby High takes part in the EES (Engineering Education Scheme) to complete an engineering-based project with local company GE. Anoushka Dutta reports:
For our project 'Pumped Storage Cooling System', we had to design an efficient cooling system to stop the hydro storage energy plant in Dinorwig, Wales from overheating. This involved online meetings with our mentors from GE in which they gave us weekly tasks to complete for the 15-week project time frame.
First, we started with research on this type of energy, heat exchange methods and different types of cooling systems. We also researched the calculations we would need to do and then used AutoCAD software to create a digital design of the heat exchanger. By the end of the project, we had compiled our work into a technical report explaining all our findings and project outcomes.
Since a significant part of the project was completed over lockdown, it was essential that our team communicated effectively online and even over social media. We really believe our teamwork skills were key, and this was one of the strengths of our team that we explained in our PowerPoint presentation summary of our project that we presented to the EDT board. At the graduation ceremony, our team won the 'Best Teamwork' award which is the trophy shown in the photo! We really believe that we gained many new skills throughout this project and are proud of what we came up with. Given this, we recommend taking part in the EES to other students who want to learn more about physics through this type of project.
by Anoushka Dutta, Year 12