Year 7 Information
For Students joining us in Autumn 2021
We are delighted you are joining Rugby High School and look forward to welcoming you in September.
We are sorry that Induction Day could not go ahead this year. We understand that this was disappointing news and that you will have many concerns and questions about your move to secondary school. We appreciate the importance of a good transition and want to reassure and support you in this. Our priority is that you feel happy and safe at school. Please try not to worry too much about your first few days at Rugby High. Remember most people will be feeing just like you. There will be lots of people around to help you and lessons will not start straightaway. You will have three days of Induction including Art, Drama and Music sessions, some well-being activities and a visiting theatre company.
Please see below for support and information to help you.
We hope that you were able to attend the Induction Evening on 12th September and that the event helped to answer your questions. The powerpoint from the first part of the session is available to view via the green box link below.
Please remember that there is lots of information including a 'commonly asked questions' section in the Welcome Booklet below.
Your parents will have been emailed information about your form, house and new form tutor(s) and details of the Transition Work we would like you to complete for September (links below)
As a Year 7 student you should attend school at your appointed time on Tuesday 7th September purely for your Lateral Flow test, you will not stay in school.
LFT testing (waiting confirmation by the DfE):
• 9-00 – 7R
• 9-30 – 7H
• 10-00 – 7S
• 11-30 – 7G
Plans may be amended if COVID regulations change but your parents will be contacted with up-to-date information in September
Term starts for Year 7 on Wednesday 8th September. School hours: 8.50am - 3.45pm
---
We are making all students and families aware of the well-being support offered by Kooth.com. Your child may have been introduced to Kooth at primary school. It is a free, safe and anonymous Online Mental Wellbeing Community for young people within the local area.
Kooth provides a range of services to support young people's wellbeing. Trained and qualified counsellors are available until 10pm each night, 365 days per year. They also host pre-moderated, age appropriate peer to peer discussion boards, live forums and articles all of which hold young person friendly information as well as therapeutic content.
Whilst your child may not need the service at present you may find it helpful during the transition process or in the future. Please see the attached information for details on how to sign up to the service. If you have any questions or would like to discuss what Kooth can offer please email the Kooth team on parents@Kooth.com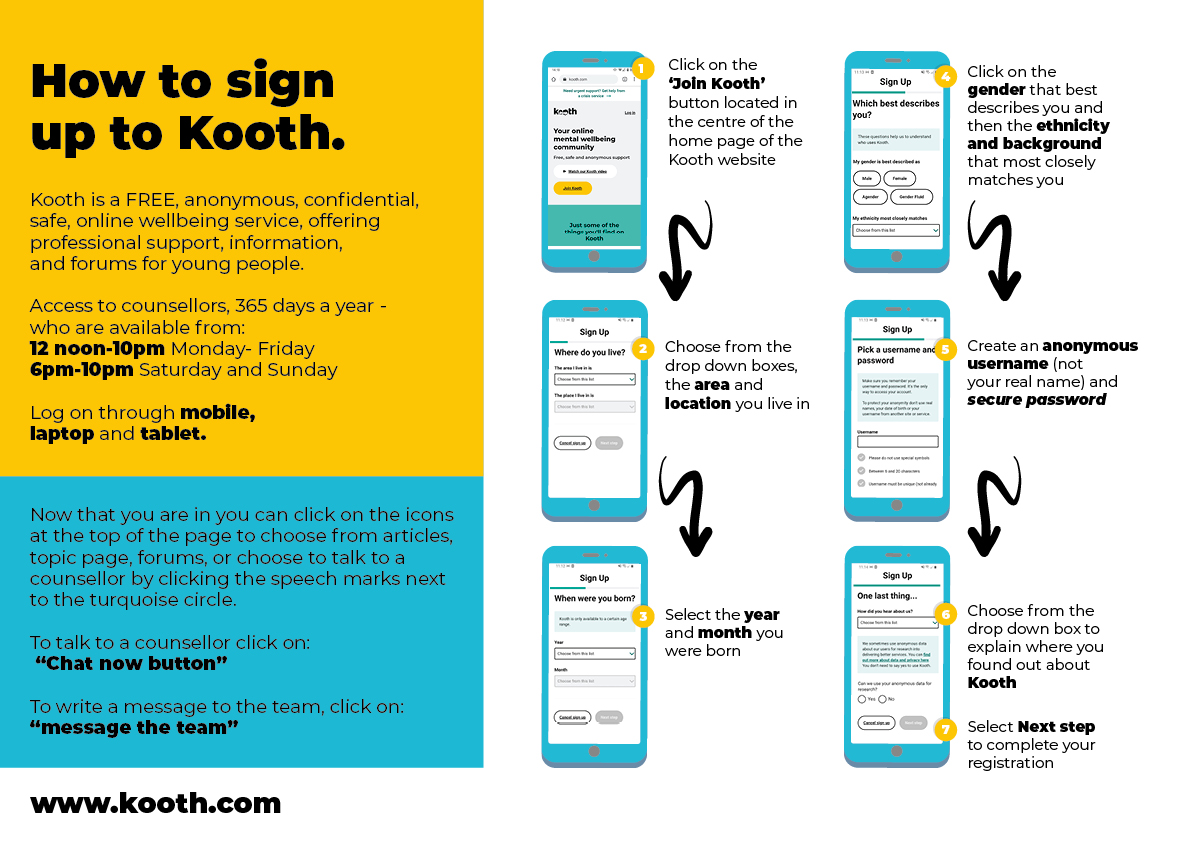 ---
Every child is different, and every secondary school is different, but there are some common themes and concerns around transition so you may find it helpful to explore the BBC Bitesize page about moving up to secondary school.
In addition, Young Minds have produced a short film for Year 6 students
For your parents/carers there is a Top Ten Tips page
---
Here is a short video to introduce some key faces and places around school.
Please Note: this video was made prior to the latest Government guidance regarding COVID restrictions. The July Induction day referred to will NOT be taking place.
You can also start to familiarise yourself with the school site by exploring our interactive school map by clicking on the link below: