Through to the regional finals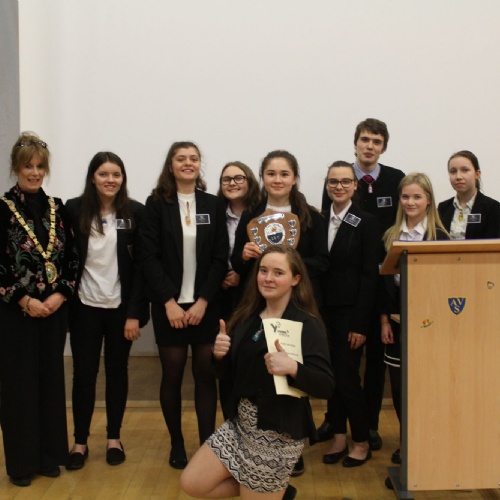 Young Enterprise team goes through to the next round of the competiion
In September an intrepid number of Year 12 from Rugby High decided they wanted to be Young Entrepreneurs. Bright and bushy-tailed, fresh from a long summer of post-GCSE chilling, they set out on their mission to wow the business world with their new and innovative ideas.
Young Enterprise is a country-wide scheme whereby students start up student companies, produce products or services and then go out into the world to sell them. Along the way, these companies find out the highs and lows of being a small business and come across the same difficulties that all business owners find. How the companies deal with the pitfalls is individual to them but every student learns from the experience. They have the chance to become the CEO, Marketing, Finance Director and more and take on the same responsibilities of these roles.
In Rugby Young Enterprise is mixed between the schools and girls from Rugby High meet up with students from Lawrence Sheriff, Avon Valley and Harris schools to form their companies. This makes for a lively and more diverse social life and contributes more to ideas than if students stayed in their own smaller school groups.
This year's scheme saw the same issues and difficulties as every year but the way students overcame challenges was particularly interesting and it has been exciting to see all the participants grow during the year. At the end of the scheme, all companies come together for an evening showcasing their company's products and each company has to write a company report, produce accounts and give a formal presentation, which is no small thing in itself. Awards are given and the best company goes forward to compete in the regional finals, with a chance to go on to the national finals.